ROS SERIES
Supreme Elegance in its design and structure. These ROS designer sensor taps have unique waterfall-effect spout that gives a classy and one-of-a-kind water delivery whilst saving water.

ROS-0027
FEATURES

ROS sensor automatic tap with stylish curve-neck design and waterfall effect

Features:
ROS Designer sensor tap
Stylish Goose-neck design
Solid brass construction design
Unique waterfall effect
Single supply
Mains/4XAA Alkaline batteries *subject to availability (2-Year lifespan)
Hands free infrared activation
Flexible supply hose

Note:
This is a single-supply sensor tap. To regulate/mix hot and cold water together, a thermostatic mixer valve or a blending valve will be required.

Water Feed: Single supply
Finish: Chrome-plated
Type: Deck-mounted

Remote Control: IRC-613
This sensor tap is compatible with IRC-613 Sensor Remote Control (Sold separately)

Power Option
Batteries and Mains (Both power options supplied)
Supplied with 3-pin UK AC plug.

TECHNICAL DETAILS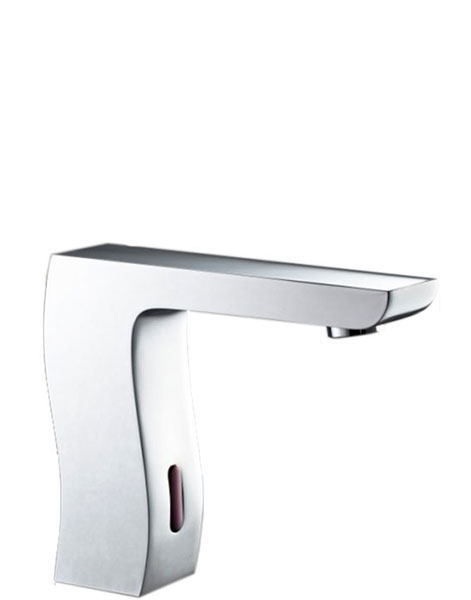 ROS-0177
FEATURES
Infrared sensor tap with 'flat-top' stylish design

Features:
ROS sensor tap 'flat-top' stylish design
Stylish wave design
Solid brass construction design
Finish: Chrome-plated
Single supply
Mains/4XAA Alkaline batteries (2-Year lifespan)
Hands free infrared activation
Flexible supply hose
New control box: ACB-0112
Water pressure required: 0.5-7 Bar (1 bar or above for best performance)

Note:
This is a single-supply sensor tap. To regulate/mix hot and cold water together, a thermostatic mixer valve or a blending valve will be required.

Water Feed: Single supply
Finish: Chrome-plated
Type: Deck-mounted

Remote Control: IRC-613
This sensor tap is compatible with IRC-613 Sensor Remote Control (Sold separately)

Power Option
Batteries and Mains (Both power options supplied)
Supplied with 3-pin UK AC plug

TECHNICAL DETAILS